Leading up to my coming trip to Japan for the first time (leaving this morning! can't believe it came so quick), I decided to read some of the work of cartoonist Lars Martinson, a fellow Minnesotan who taught English in Japan for several years. It's been some time since I read his intriguing, melancholy, and beautiful comic series Tonoharu, and this work was a good way not only to prepare for the exploration of Japan, but also to hold me over until he releases the third installment of the Tonoharu series, slated for next October.
Martinson's ebook journal comics, The Kameoka Diaries, record his personal reflections and experiences teaching Japanese schoolchildren, from kindergarten to junior high, in 2011 and 2012. I found these collections of autobiographical comics to be equal parts humorous and touching, expressing not only insights into Japanese culture but also our own as he interacts with both his Japanese and fellow Western colleagues. Including a lot of interesting tidbits into daily life in Japan and Japanese culture, there are also some fascinating asides regarding our own culture. For instance, as a Minnesotan I too find myself mystified and confused at the Oklahomans' belief that their state is part of the Midwest. I mean, what? They are totally the south! I guess this just goes to show how meaningless the term Midwest really is. Interesting that Martinson discovers this weird little regional quirk while living in Japan! In any case, I would highly recommend the Kameoka Diaries for anyone interested in a Westerner living in Japan.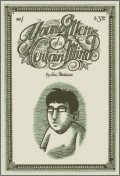 Regarding Martin's first comic, Young Men of a Certain Mind, which follows a recently graduated layabout as he gets a dead end job working as a hotel concierge, struggles to become a writer, and mopes about, I found it a fascinating and thought provoking work.
This little comic felt very real to me, how "autobiographical" it really is notwithstanding. The main character acts like a jerk, has a rather poor attitude towards women and people in general, and is rather self-deluded, in spite of his typical Minnesotan self-deprecating jokes. Finishing college and being cut adrift in a just a few years after the main character myself, I sympathize if not justify his plight of being educated, but unable to find a job that complements this background. There is a definite privilege here; in spite of his moping, griping, and feeling miserable, he still managed to get that coveted teaching position in Japan.
I feel that it provides some key background to the hapless, disaffected characters of Martinson's later, more realized, work in Tonoharu. The main character here remarks that he alienated in his everyday life, and it is true, his spiritual successor Dan Wells in Tonoharu fares little better in an actual foreign environment. It is not just that Dan is "out of his element" in Japan, it's that he can not interact with people no matter his environment and his attempt to change up his world with a job in Japan did not end up changing his personality. I am definitely curious about how Dan's story will turn out, and what was the crisis that ended his time in Japan, as set up by Martinson's stand in character in the beginning of Tonoharu's first volume. We'll just have to wait a year to find out!

In the meantime, feel free to check out my sister, I'm Reading Comeeks, and my Instagram account, AdventureSibs, as we chronicle our own exploration of Japan in the coming weeks!
*Theme Music for entry: "Alone in Kyoto," Air, Talkie Walkie, 2004